Charan Sachar
Friday All Day
Thick and thin yarns are great when it comes to creating textured yarns and are one of my favorites to spin. In this full day class, you will learn to spin thick and thin yarns with the intention of plying them into something magical. Using the thick and thin singles we will explore how to create Beehives, fishnets (2-ply crepe), and Rosebuds. When you leave the class you'll be able to add these techniques to your creative spinning repertoire.
Skill Level:
Familiar with your wheel, can spin a continuous thread and make a plied yarn
Material fee:
$30 for Fiber and ply thread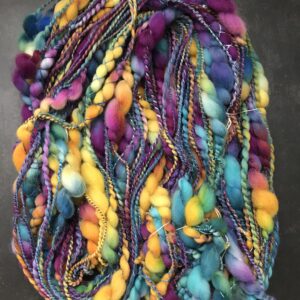 Student Supplies:
• Wheel with a large orfice (1/2" or more) to accommodate textured yarns
• Extra bobbins
• Lazy Kate, Niddy Noddy and any additional spinning tools you prefer
If bringing an e-spinner, make sure you have a full battery and a stand at the height you like.  The venue is not responsible for providing electricity or stands.