Combination Knitting
Patty Lyons
Thursday PM
Have you tried learning continental, but the purl messes you up? Do you feel like you often have uneven tension? Do you have rowing out (your purl row is taller than your knit row). Or perhaps you are already a combination knitter and you've ever been told you knit "wrong", or been asked "what are you doing", take heart . . . there are no wrong ways to knit as long as we control our stitches. A combination knitter works through the back loop to knit, and the front loop to purl. It can be a fast and easy way to knit, but simple adjustments must be made to follow Western patterns, like how to knit in the round, and understand left and right slanting increases and decreases, and how to work twisted pattern stitches. If you are a Western knitter, then learn the amazing advantages to this knitting methods and how and when you would combine it with your own. If you are a Combination Knitter, learn how to make stitches better and easier for your style.
If time allows we will even explore different ways to cast on to avoid the first twisted row of knitting.
Skill level:
Must know how to knit, purl, cast on, bind off. Know simple increases and decreases. All levels. All knitting styles welcome.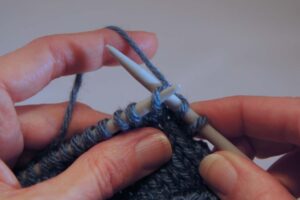 Student Supplies:
Yarn- Any worsted or chunky weight, non-splitty yarn in a light color
Needles – Whatever needle works with your yarn
Homework: 
CO 20 stitches using long tail cast on. Work a few rows in stockinette, ending ready to work a WS row.