Ana Campos
Satruday All Day
Finishing can make or break your project: it's the difference between knits that look okay and knits that look truly polished. Take your knitting to the next level by learning a variety of finishing skills! The skills you learn in this workshop will improve your knits across the board.
You will learn how to:
Invisibly seam your knits, both along vertical and horizontal edges
Expertly weave in ends in different stitch textures
Pick up stitches along both vertical and horizontal edges (for collars, button bands, sock gussets, etc)
Set up a provisional cast on
Graft your knitting (kitchener stitch) by understanding your knitting (no more memorization)
Create a crochet reinforcement and steek your knitting
Skill Level:
Advanced beginner or intermediate. Must be comfortable reading their knitting (telling knit and purl stitches apart) and picking up dropped stitches with a crochet hook.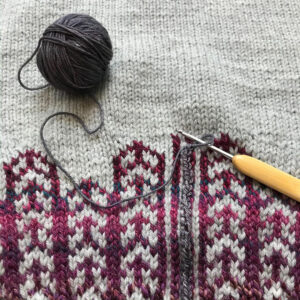 Student Supplies:
US8 knitting needles, 100 yards of worsted weight yarn in a different color from the swatches, 50 yards of worsted weight yarn in a contrasting color, darning needle (I prefer metal bent-tip ones, but you can bring whichever kind you like), sharp scissors, scrap amounts of sport weight yarn, size H crochet hook, size D crochet hook, *Your 4 swatches
Homework:
Please knit 4 squares in the following fashion: Using light-colored, smooth worsted-weight yarn (example: Berroco Ultra Wool or Cascade 220) and US8 needles, cast on 25 stitches. Knit in stockinette stitch until you have a square. Bind off in pattern.
If you've never worked with a crochet hook before, please spend 10-15 minutes practicing how to do a simple crochet chain. Please don't skip this, it makes all the difference!