***open to crocheters
In this class we will create texture, colorwork or lace using rule based guides instead of restrictive instructions. Unlike a traditional pattern that always produces the same result, projects based on algorithms (rules) have an element of randomness. In the first part of the class, we will discuss how to
create simple but unique stitch motifs and colorwork based on anything from the roll of dice to the number of steps you take in a day. We'll go over a range of techniques that produce stunning results. I'll demonstrate how to plan a temperature blanket inspired project from a set of data. Each student will work on a swatch or mini shawl in class using their own set of rules. Everyone will share their results and discuss how each rule affected the outcome of their stitch pattern.
NOTE: This is very similar to last year's "Knit Your Own Adventure" class.
Skill Level:
Beginner but students should be familiar with ONE of these techniques, but do not need to be proficient in all of the following: Beginner Lace, Cables, Bobbles, Easy Colorwork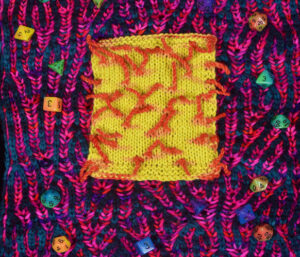 Student Supplies:
4+ balls of yarn in any weight, Bring mostly solid colors. Scraps are OK. Needles /hooks in an appropriate size for your yarns. A pencil and notebook or scratch paper. Dice will be available, but students are encouraged to bring their own. Optional: Color Card for project yarn, coloring supplies to match your yarn, a set of data (such as daily average temperatures from 1975).