Ribs make vertical lines; welts make horizontal lines. But there is much more to these knitted features than the direction of lines. We will cover many features of basic ribs and welts, as well as the effects created by combining ribs and welts, and we will cover variations such as cables, waves, and pleats. We'll also discuss some ways to use these lovelies in your knitting to get specific effects.
Skill Level:
Advanced beginning to intermediate knitting, comfortable with cast on, bind off, knit stitch, and purl stitch.
Material fee:
$15, includes notebook with handouts, stitch patterns, extra yarns, sundry supplies.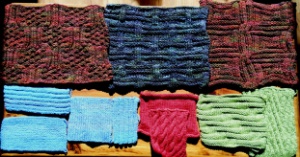 Student Supplies:
100-200 yards of yarn, knitting needles appropriate for the yarn, darning needle. I suggest sport to worsted weight wool yarn in a solid, light color.