Denise Bell
Saturday All Day
Shetland lace is a beloved tradition with a unique construction method. In 1975 Gladys Amedro, originally of London, retired with her husband to the island of Yell in Shetland and began designing Shetland lace using a combination of traditional and non-traditional methods.
I first encountered Mrs. Amedro's non-traditional construction method when I saw her Brora Black Shawl under glass in the wool room at Jamieson & Smith in Shetland in 2014. I admit that when I first saw that piece, I couldn't figure out what she had done. The good people at Jamieson & Smith introduced me to her way of thinking, and it broadened my understanding of Shetland lace.
In this two-session class we will knit a swatch using one of Mrs. Amedro's methods of working from the edge to the center with a few surprises along the way. Learning her methods will further your understanding of lace construction.
Skill level:
Advanced
Ability to execute standard increases and decreases, and basic chart reading. Experience with lace-weight yarn required.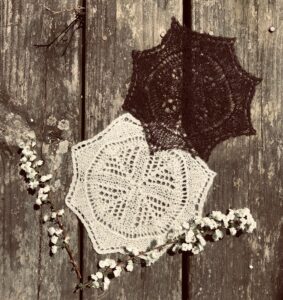 Student Supplies:
Yarn: Approximately 100 yards of laceweight light-colored wool Needle Sizes: 4US / 3.5 mm and 5US / 3.75mm needles, both circular and double pointed, needles with sharp tips are essential when working lace. Notions: Stitch markers, waste yarn, crochet hook, darning needle and your usual knitting kit