Sivia Harding
Thursday AM
Roosimine is an Estonian inlay colorwork technique that is as easy as pie - you simply lay the contrast color in as you go - it's not even knitted! It produces a delightfully embossed texture that is unlike anything else. Vikkel braids, which look like a horizontal line of knitting, are incredibly complimentary to Roosimine, and the two techniques are often found together, a perfect pair!
I have designed a sample for this class that is a small, all-purpose carrying bag suitable for a cell phone, wallet, or any small treasures you need to carry. We start with a provisional cast on, join in the round, and proceed to work alternate Vikkel braids and Roosimine sections for the length of the bag. I then demonstrate some of my favorite finishing tips, including two types of I-cord and a Japanese bind-off technique that produces a very strong and firm bottom seam.
Skill Level:
Knit, purl, joining and working in the round, I-cord experience is a plus but not necessary. Student needs to have some knitting experience and be able to achieve a consistent gauge throughout a project.
Material Fee: $5 for full color handout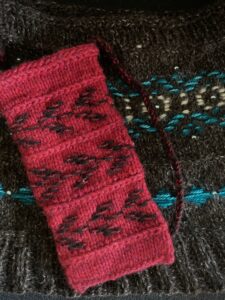 Student Supplies:
DK-weight yarn, approximately 60 yds for main color, approximately 20 yds for contrast color
Contrast color may also be doubled fingering-weight yarn or a fingering-weight yarn and a lace-weight mohair held together.
Size US 5 (3.75 mm) needles, your choice of double points, two circulars, or one long circular to work a small circumference in the round, plus a spare needle for bind-off
(If you are a tight knitter, use size US 6 (4.0 mm) needles. If you're not sure, bring both sizes)
Small amount smooth waste yarn for provisional cast-on that is about the same weight as working yarns
Crochet hook one size larger than your knitting needle size
Scissors, tapestry needle