Book- and briefcase-style charkhas—largely used for spinning cotton singles—are captivating, self-contained little devices. However, the learning curve can feel steep. Kate will show you some of the tips and tricks she wishes she had known when starting a charkha practice: exploring multiple types and preparations of cotton to find your best fit, understanding adjustments and lubrication, seated positions and ergonomics, troubleshooting, yarn handling, the beauty of corn-husk bearings, and more. Learn to listen to your charkha, tune it like an instrument, and adjust your movements to spin in harmony.
Skill Level:
Previous spinning experience is helpful but not required.
Material fee:
$10: variety of prepared cotton fibers, handouts, and recordkeeping materials.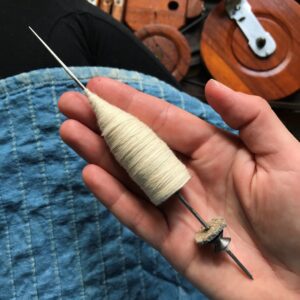 Student Supplies:
No supplies necessary. Optional: If you have a charkha, bring it along! If it isn't currently working, Kate will be happy to give it a tune-up.