Michele Lee Bernstein
Friday AM
Brioche Pastiche is a quick start class in 2 color brioche in the round. We begin with 2 color brioche rib in the round (either as an introduction for an adventurous beginner, or a quick refresher). Then it's onward to a gentle introduction into brioche increases and decreases to form leafy patterns on a hat or cowl. Work at your own pace; your pattern allows you to continue working in brioche rib if you're not ready to tackle increases and decreases! We'll also learn about reading your brioche knitting, charts, and fixing mistakes. You'll be well on your way to the hat or cowl of your choice by the end of class.
Skill level:
knit/purl; cast on/bind off; working in the round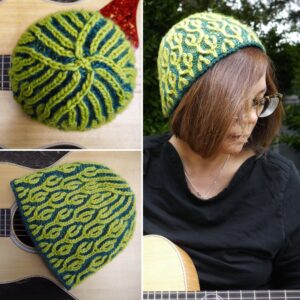 Student Supplies:
One light colored and one dark colored worsted weight yarn, 100 yards each (example: Malabrigo Worsted), 16 or 20" US 6 circular needle, stitch markers. A row counter is helpful, too. (You can use a 24" needle for cowl, but it may be tight, depending on your gauge.)
Brioche Pastiche pattern (Use coupon code REDALDER2024 for 40% off). Ravelry link: https://www.ravelry.com/patterns/library/brioche-pastiche
Homework:
Cast on and join to work in the round with dark color, then knit one rnd. (Stitch count for hat or cowl is in the pattern).