Sarah Peasley
Saturday PM
Have you ever looked at something from your closet, or on another person, or in a catalog or online shop, and thought, "I could knit/crochet that!"? You're right! You can!
Step One of designing "from your closet" is sketching out your concept on paper and "connecting the dots" with measurements taken directly from things you're already wearing (a bad fit can provide as much useful data as a good fit!).
This sketch is called a "schematic" — it's that drawing (or drawings) you sometimes see in a knitting or crochet pattern. That little line drawing is invaluable for designing your ideal garment from scratch, or for tweaking a commercial pattern to fit you better.
(Did you hear that? You can tweak a pattern! To fit you better!)
In this class, we'll sketch out a schematic (or two, or three), discuss how you want each section to fit, begin to fill in the numbers, and explore how to apply what you've learned to altering an existing knit or crochet pattern. (And please: let's keep these first ideas fairly simple while the concepts are being learned.)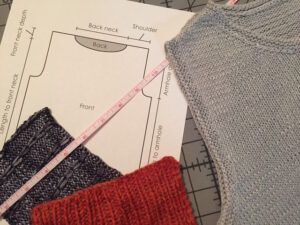 Student Supplies:
Paper, Pencil, Eraser, Flexible measuring tape, Calculator
Please bring one or more shirts or sweaters that you own — we're looking for something that fits you nicely or that you wish fit you differently, including any or all of the following: across the shoulders, around the bust, around the hips, sleeve length, upper sleeve circumference, body length, etc. – you will use the measurements from these samples as a starting point. You may also bring pictures from catalogs, other patterns, or whatever inspires you.