Cables take on a new ease when we free ourselves from dependence on that tricky little needle that's so easy to lose.
In this class we'll explore how to work different sizes of cables without a cable needle, from simple 2/2 cables to larger and more complex cable crosses, as we begin working the Braydon scarf. We'll also explore multiple ways to work 1/1 left and right twists, opening up the world of quick, easy traveling stitches.
Skill Level:
Intermediate; should have experience working cables with a cable needle
Material fee:
$6 Includes pattern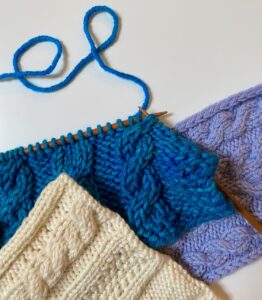 Student Supplies:
To finish the scarf you will need approximately 350 yards of smooth, light-colored worsted-weight yarn, or if you prefer to work just a swatch 40-50 yards, suitable needles for working flat in worsted-weight yarn (generally US #7-9), scissors, tapestry needle.