Double-Knitting Cables
Alasdair Post-Quinn
Saturday PM
Back in 2011 when I came out with my book Extreme Double-Knitting, I created one hat called "Vasily" to showcase double-knit cables. At the time, I was limited by my perception that double-knit cables weren't as flexible as standard cables, and you couldn't use negative space to allow the cable to travel across a background. Only a short while after the book came out, I discovered a way to do double-knit cables that was elegant and clever – and opened up new possibilities for the technique.
In this workshop, you'll learn two different techniques for double-knitting cables with and without a cable needle – and understand why you'd use one method over another in any given location. You'll also learn how double-knit cables interact with double-knitting colorwork motifs. As with the other advanced workshops, you'll also learn a really clean double-knit selvedge and a bind-off that mirrors the cast-on.
Skill Level:
You should be comfortable with modern (two colors at once) double-knitting from recent experience. You should also be comfortable with single-layer cabled knitting (with or without a cable needle) and working cables from knitting charts.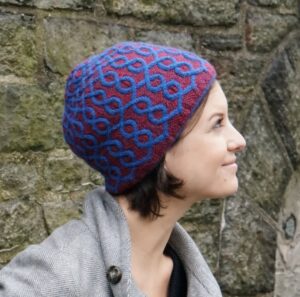 Student Supplies:
2 solid colors (one light, one darker) of plain yarn in the sport to DK weight range and a pair of straight or circular needles in the proper size or a size larger. You should also bring a metal U-shaped cable needle; spares may be available to borrow or purchase for a small fee at in-person workshops. A heavy-duty paper clip will also suffice.