Double-knitting Entrelac
Alasdair Post-Quinn
Sunday All Day
Are you a double-knitter itching for a technique extravaganza? Do you love the basket-weave look of entrelac knitting but dislike the unattractive wrong side? As I developed the techniques for double-knit entrelac to include in my book Double or Nothing, I discovered that the two techniques are surprisingly compatible and fun to combine. Learn double-knit invisible short-rows, increases, decreases, picked-up stitches – and combine it all to make a double-knit entrelac swatch. With these techniques, you can modify most entrelac patterns to make them completely reversible. As with most of my other workshops, you'll also learn a really clean double-knit selvedge and a bind-off that mirrors the cast-on.
Skill Level: You should be comfortable with modern (two colors at once) double-knitting from recent experience. You should also be comfortable with single-layer entrelac and short rows.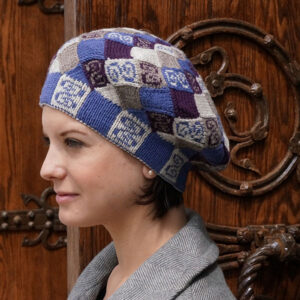 Student Supplies: 2 solid colors (one light, one darker) of plain yarn in the DK to worsted weight range and a pair of straight or circular needles in the size you would normally use for your chosen yarn.