Double-Knitting Off the Grid
Alasdair Post-Quinn
Saturday AM
Knitting is so often just one row of stitches on top of another – and double-knitting doubly so. In the pursuit of more interesting shapes, sometimes you need to go … off the grid. In this workshop, you'll learn a whole host of double-knit increases and decreases – you can use them for shaping later, but I prefer to use them to make colorwork that almost seems to be embroidered onto the fabric. If you combine this technique with double-knit cables, whole new worlds will open up before you. As with the other advanced workshops, you'll also learn a really clean double-knit selvedge and a bind-off that mirrors the cast-on.
Skill Level: You should be comfortable with modern (two colors at once) double-knitting from recent experience. The homework below will help to refresh you if you are rusty. You should also be comfortable with some type of increase and decrease in single-layer knitting and be able to follow them in charts.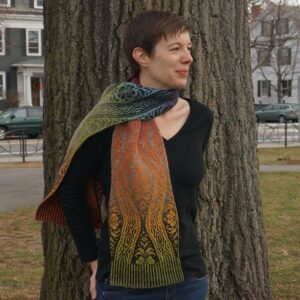 Student Supplies: 2 solid colors (one light, one darker) of plain yarn in the DK to worsted weight range and a pair of straight or circular needles in the size you would normally use for your chosen yarn.