Introduction to Kumihimo on Marudai
John Whitley
Thursday All Day
Learn kumihimo, Japanese braiding, on marudai – the "round stand". Students will learn proper hand move technique, a few basic braid patterns, and learn how to make and setup a warp on their stand.
Skill Level: No prior experience required.
Material fee: $10, Pre-made warp(s) and printed class handouts.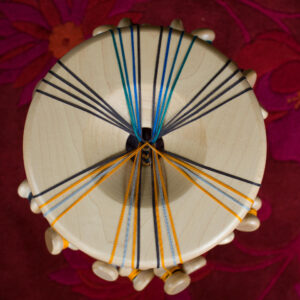 Student Supplies: 1. Marudai; 12 to 20 tama. 2. Counterweight bag with short drawstring 2. Chopstick or double-pointed knitting needle. 4. Counterweight, 50-70% of your total tama weight. Coins, fishing sinkers, extra tama, etc. that fit in your counterweight bag are fine.
John has some marudai and tama for loan if prior arrangements are made.