Knit Your Own Adventure
Xandy Peters
Friday All Day
Put down that pattern and create your own rules of knitting! In this class we will create colorwork, texture, or lace using parametric (rule based) guides instead of restrictive instructions. The temperature blanket is a well-known example of parametric knitting. This popular pattern is knit
according to one rule: work one stripe per day in a color determined by the temperature outside. Unlike a traditional pattern that always produces the same result, projects based on parameters and rules have an element of randomness. In the first part of the class, we will discuss how to create unique and unrepeatable stitch motifs and colorwork based on anything from the roll of dice to the number of steps you take in a day. We will also go over techniques and accessories that combine well with different parameters to produce stunning results. The swatches and patterns that we make in the second part of the class will follow your own set of rules. Each student will work on a swatch or mini shawl in class. Everyone will share their results and discuss how each rule affected the outcome of their stitch pattern.
Skill Level:
Beginner:Students should be familiar with ONE of these techniques, but do not need to be proficient in all of the following: Beginner Lace, Cables, Bobbles, Easy Colorwork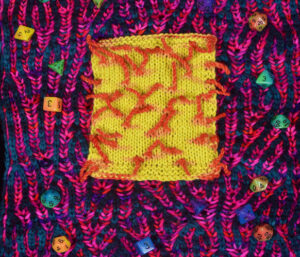 Student Supplies:
A few balls of solid-colored yarn in any weight; scraps are OK. At least one multi-color yarn in any weight. Needles in an appropriate size for your yarns. A pencil and notebook or scratch paper.