Patty's Circular Knitting Bag of Tricks
Patty Lyons
Saturday AM
Patty digs deep into her bag of tricks to show you some of her favorite circular knitting hacks. Patty has some truly unique UNventions (some brand new - never published or
taught!) that will make your circular knitting sing. Learn how to make a completely jog free cast on and bind off, as well as some truly magical jogless joins (can we say one row
stripe!). There will be tips to avoid ladders from dpns and the weird tight stitch at the magic loop turn and so much more. Finally, Patty will introduce you to Helix knitting, a spectacular circular method, AND (extra credit, if time allows), even tricks to working W&T and German short rows in the round without the icky hole. Get ready to kick your circular knitting up to the next level.
Skill level:
Must know how to knit, purl, cast on, bind off, and simple increases and decreases.
NOTE: Must be comfortable working magic loop or dpns without supervision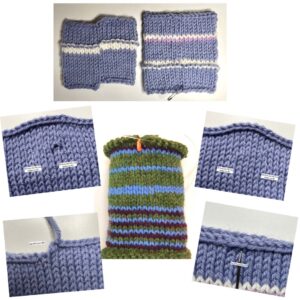 Student Supplies:
Yarn: Any smooth worsted to bulky weight yarn (color A), 2 small balls of contrasting yarn (color B & C).
OPTIONAL: empty circular needle and small ball of yarn
Needles & Notions:
Needles appropriate to yarn to work a small circumference (36 - 40" circular for magic loop, 2 circs or dpns), scissors or yarn cutter, tapestry needle.
Homework: 
Cast on 30 stitches, do not join