Learn how to knit Portuguese style! Portuguese knitting is more efficient and easier on your joints, so it can help reduce strain and fatigue. In this style of knitting, the yarn is tensioned either around the neck or using a knitting pin. This unique method of tensioning the yarn allows both knit and purl stitches to be created with a simple flick of the thumb! In this workshop, you'll learn the basics of Portuguese Knitting, and then use your new skills to learn stranded colorwork. Portuguese Knitting makes it easier to control the tension of your floats, making for easy stranded knitting!
Skill Level:
For adventurous beginners. Must be very comfortable with basics: knitting, purling, increasing, decreasing. You should have knit a few accessories.
Material fee:
$8, includes a set of two Portuguese Knitting Pins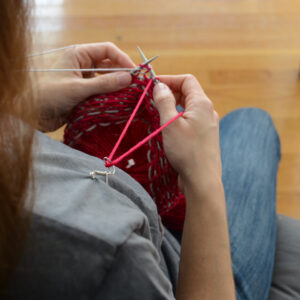 Student Supplies:
100 yards each of two contrasting colors of bulky weight yarn (example: Malabrigo Chunky) Note: Please be sure to get bulky, not super bulky!
US10 (6.00 mm) 16" (40 cm) circular needles or size needed to obtain gauge.
You may want to also bring US 9 (5.50 mm) and US 10.5 (6.50 mm) 16" (40 cm) circular
needles, as you may find your gauge is different when knitting in this new style)
stitch marker for beginning of round, extra markers to keep track of pattern repeats
Homework:
Using Main Color, cast on 75 stitches. Join in the round being careful not to twist, and mark the beginning of the round.