Devin Helmen
Sunday All Day
Many sheep breeds have been developed in the United States both by directed breeding and by chance or feral flocks developing on their own. In this class we will work with 5 to 6 different U.S. breeds, discussing the origins and characteristics of their fleece and working with them to give you the chance to discover the wide variety of wool we have available to us here in the U.S. I will have some fiber preparation tools for use of students but encourage you to bring carders, combs or flickers of your own to sample and experiment with these fleece.
Skill level: Students should be able to spin a continuous yarn.
Material Fee:
$10 which will cover fiber used in class.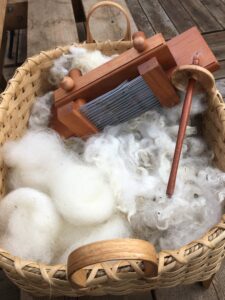 Student Supplies: Students should bring a spindle or spindles you are comfortable with or a spinning wheel and at least two bobbins to facilitate plyed samples. Any fiber preparation tools you wish to use (limited fiber preparation tools will be available; hand card, flicker, and combs)
Please note: if you bring an e-spinner please make sure to bring a fully charged battery and a table or stool for your wheel, most venues do not have extra chairs to use for your wheel and easily accessible outlets for all spinners. It is your responsibility to make sure you can use your e-spinner comfortably.