Denise Bell
Sunday All Day
The themes of the sea are frequently represented in Shetland designs. Would you expect anything less from the beautiful but hard-to-reach islands located where the Atlantic Ocean meets the North Sea?
In this fine lace class we'll look at three distinct stitches, the Cockleshell, the Bird's Eye, and the Lace Heart. Both stitches require a bit of concentration but are well worth the effort when a traditional Shetland lace shawl is your goal. The Lace Heart stitch, while not a traditional Shetland stitch represents the love many of us have for Shetland lace.
We will be knitting a swatch. It's not a miniature shawl. It's just a swatch, knit for the simple joy of creating and allowing you, the student, to practice these fun true lace stitches. I'm a firm believer in swatches - they let you experiment and learn but require less commitment than a full garment.
Skill level:
Advanced
Ability to execute standard increases and decreases, and basic chart reading. Experience with lace-weight yarn required.
Material Fee:
$5 – one ball of J&S 2 ply lace yarn.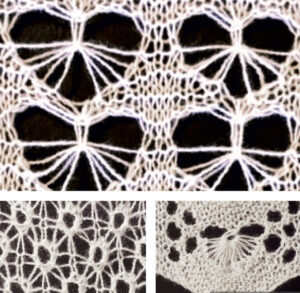 Student Supplies:
Needle: 4US / 3.5 mm either circular or straight, needles with sharp tips are essential when working lace. Notions: Stitch markers, waste yarn, crochet hook, darning needle and your usual knitting kit