Single-layer Double-knitting Lace
Alasdair Post-Quinn
Sunday AM
This is a brand-new application of double-knitting lace, which creates a fabric which has lace on one layer and solid fabric on the other. Depending on your preference and the lace pattern you choose, I will teach you how to do various things with the plain layer, including echoes of the colorwork in the lace layer, or no colorwork at all. As with most of my other workshops, you'll also learn a really clean double-knit selvedge and a bind-off that mirrors the cast-on.
Skill Level:
You should be comfortable with modern (two colors at once) double-knitting from recent experience. You should also be comfortable with single-layer lace and following knitting charts.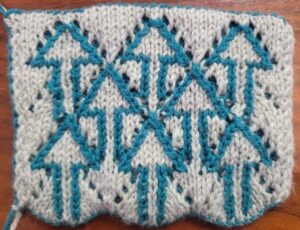 Student Supplies:
2 distinct solid colors (1 light, 1 darker) of plain yarn in the sport to DK weight range and a pair of straight or circular needles in a size or two larger than you'd normally use.