Kate Larson
Thursday All Day
Stripes are a fun way to incorporate more colors into our textiles, but weaving in all those ends can be a drag. Join Kate for a full-day deep dive into creating self-striping effects that increase our color options without all those loose ends. Using several different yarn structures that can be harnessed for color effects, you will create stripey samples that range from gentle color undulations to clear, hard stripes. Then, using an intuitive approach, we will discuss how to adjust the striping scale for specific projects large and small. The focus will be on creating self-striping handspun for knitting, but crocheters, weavers, and more are welcome!
Skill Level:
Ability to spin and ply a basic yarn
Material fee:
$30 - Variety of fibers, recordkeeping materials, and handouts.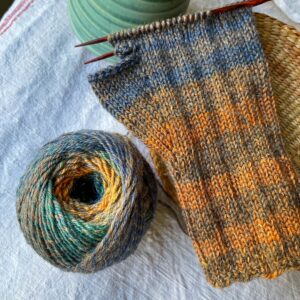 Student Supplies:
A working wheel or e-spinner, extra bobbins, lazy kate, handcards, and tape measure. Knitters: we will be knitting swatches, so bring at least three needle sizes that correspond to the gauge yarn you typically spin. Bringing additional sizes or an interchangeable set is recommended. If you are not a knitter, no problem! Contact Kate prior to class to discuss: [email protected].
Please note: if you bring an e-spinner please make sure to bring a fully charged battery and a table or stool for your wheel, most venues do not have extra chairs to use for your wheel and easily accessible outlets for all spinners. It is your responsibility to make sure you can use your e-spinner comfortably.