Wool and mohair locks can be used "as is" or prepared in a variety of ways for spinning both highly textured yarns and very smooth yarns. In this workshop, we will cover a wide array of lock structures, from fine crimp to bold curls. We will play with undyed and dyed locks, we will spin yarns from the locks, we will combine locks with rovings in a variety of ways, and we will flick locks for spinning smooth, worsted-type yarns.
Skill Level:
Intermediate spinning, able to spin consistent singles and comfortable making 2-ply yarns.
Material fee:
$20, includes samples for examination, fibers for spinning, notebook with handouts, sundry supplies.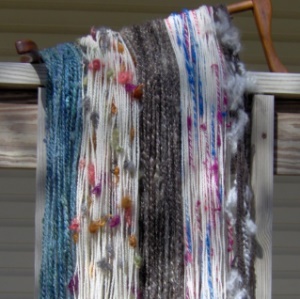 Student Supplies:
a spinning wheel in good working order, 3 bobbins, lazy kate, flick carder or dog/cat slicker brush or dog "rake".
Please note: if you bring an e-spinner please make sure to bring a fully charged battery and a table or stool for your wheel, most venues do not have extra chairs to use for your wheel and easily accessible outlets for all spinners. It is your responsibility to make sure you can use your e-spinner comfortably.