Have you ever struggled to find project ideas for multicolored yarn? In this class we will
create colorwork, texture, or lace using variegated yarn as our guide. In plain stockinette or garter stitch, multicolor yarns create linear patterns. You can completely change the way a multicolor yarn looks by isolating or manipulating the colors with your stitches. Students will learn 15+ stitches that can be used in assigned pooling and knit by color patterns and have a chance to experiment with different stitches. At the end of class, everyone will share their results and discuss how each rule affected the outcome of their stitch pattern.
Skill Level:
Students should be familiar with ONE of these techniques: beginner lace, slipped stitches, bobbles. These techniques and others will be demonstrated in class.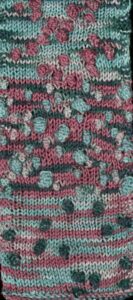 Student Supplies:
A few different multicolor yarns, needles appropriate to your chosen yarn, notebook, pen or pencil with eraser, stitch markers, and a crochet hook.