Do you want to design your own shawls? The key to shawl design is understanding how to construct different shapes and how that impacts stitch patterns. Join designer Ana Campos for this workshop on constructing triangular shawls! You will learn three types of construction: top-down, side to side, and on the bias. In class, we will knit miniature sample shawls and discuss how to apply stitch patterns to these shawl shapes.
Skill Level:
This class is for adventurous beginners and beyond. You must have knit a few accessories and be comfortable following patterns with increases and decreases.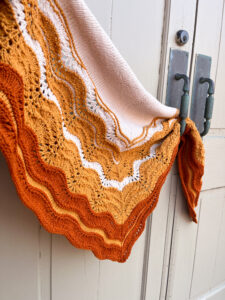 Student Supplies:
150 yards of smooth worsted weight yarn in a light color, and US7 or US8 needles. You will use this for your mini shawls.
Print the charts in the class handout ahead of time, so you can work on them in class
Writing supplies (pencil preferable so you can play with your design)
Homework:
Spend a little time looking at stitch patterns and bring some ideas you may want to try out on a shawl