"Ombré" translates simply as shade or shadow, and usually brings slowly shifting colors to mind. In this half-day class, we will explore great ways to use natural, neutral colors to take vibrantly dyed hues to the next level by creating tints, tones, and shades. Using a wide range of fibers such as silks, wools, mohair, and more, we will work through straight-forward color theory, sequential blending, ply structures, and project ideas for handspun ombré yarns.
Skill Level:
Ability to spin and ply a basic yarn
Material fee:
$20 - Variety of fibers, recordkeeping materials, and handouts.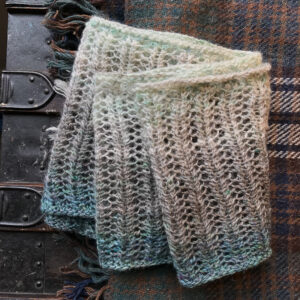 Student Supplies:
A working wheel, several spindles, OR an e-spinner; extra bobbins; lazy kate; and handcards.
Please note: if you bring an e-spinner please make sure to bring a fully charged battery and a table or stool for your wheel, most venues do not have extra chairs to use for your wheel and easily accessible outlets for all spinners. It is your responsibility to make sure you can use your e-spinner comfortably.