Center Out Knitting
Xandy Peters
Saturday AM
This class is a guided tour of the possibilities of center out
accessories. We will look at 3 different cast on methods for
center out projects and the unique strengths of each method. After casting on, we will try out different arrangements and types of increases to build different shawl, blanket, and scarf shapes such as a square or other regular polygon, rectangle, oblong, almond, and classic circular "pi" shawl. Many traditional lace and colorwork motifs can be converted to work with these shapes for spectacular results. By the end of the class, students will feel confident using these cast on methods to create center
out accessories and add stitch and color patterns to various
shapes.
Skill Level:
Intermediate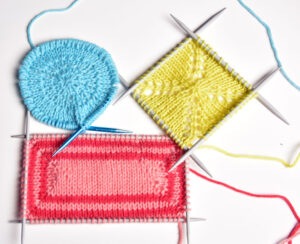 Student Supplies:
1 or more colors of worsted weight yarn, scraps are fine, circular and double pointed needles in a size 7 and 8 extra needles may be helpful, scratch paper.