Amy Tyler
Saturday All Day
In this workshop we will knit a medallion that was inspired by the state stone of Michigan, the Petoskey stone. The medallions are flat circles, knitted from the center out. When a series of these medallions are crocheted together, you can change the circular shape to 4-, 5-, 6-, or more-sided pieces. We will cover a circular crochet cast-on, how to knit circularly with 2 circular needles, 2-stitch cable patterns, and crocheting medallions together. With this approach, you can make scarves, afghans, hats, pillows, and more.
Skill Level:
Intermediate knitting, comfortable with knit stitch and purl stitch, some experience with cables and knitting circularly
Material fee:
$15, includes samples for examination, additional yarns, notebook with handouts including written instructions for 2 versions of the Petoskey stone medallion, sundry supplies.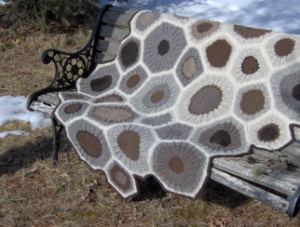 Student Supplies:
100-200 yards or so of yarn (1 or more colors), 2 circular knitting needles of the same size (but can be of different lengths) appropriate for the yarn, a crochet hook similar in size to the needles, and a darning needle.