Dyed In the Fleece: Preparing and Spinning Dyed Locks for Color Effects
Kate Larson
Friday All Day
The ubiquitous phrase "dyed in the wool" is used in all sorts of situations, but for fiber folks, it means wool that takes on its colorful character first. Working with dyed locks and fleece provides handspinners with a fantastic range of options for isolating, mixing, and blending colors. Join Kate for a day of hands-on experiments with color theory and fiber-preparation techniques. You will have a chance to see how different dye methods, fiber types, and spinning techniques converge, allowing us to create the yarns we want.
Skill Level:
Ability to spin and ply a basic yarn
Material fee:
$25: variety of dyed locks, handouts, and recordkeeping materials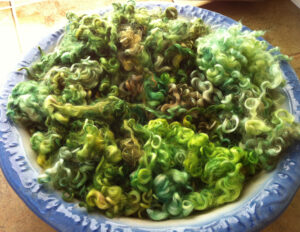 Student Supplies:
Several spindles or working wheel, extra bobbins, and lazy kate. You will need handcards for this class—some will be available to borrow.