Michele Lee Bernstein
Thursday AM
Jump on the pooling band wagon! Assigned Pooling is the hot new knitting technique, judging by the recent and prolific influx of new yarns on the market specifically dyed to pool. Learn how to make these gorgeous yarns work for you with this collection of stitches, and how to adjust your stitches to work with your specific yarn. We'll use the Starfall cowl pattern as a framework for your assigned pooling stitches. You'll also learn the basics of shaping a bandana cowl, which stays in place with no fuss when wearing.
Skill level:
knit/purl, cast on/bind off, working in the round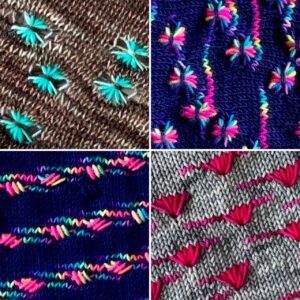 Student Supplies:
One 100g or 4 oz skein fingering weight yarn, dyed for assigned pooling. 20 or 24" US 6/4 mm circular needle, or size to get a fabric you like. Two stitch markers.
Recommended yarns: Dream in Color Smooshy, dyed for assigned pooling, or A Good Fingering from Knits All Done/Yarn Snob, dyed for assigned pooling.
Features: Starfall pattern by Michele Lee Bernstein, coupon code for discount. We'll use this pattern as a base to try several different pooling stitches.
Starfall Cowl pattern (use coupon code REDALDER2024 for 40% off). Ravelry link: https://www.ravelry.com/patterns/library/starfall-6
Homework:
Cast on 120 sts using long tail cast on. Join to work in the rnd. Knit 2 rnds.