Introduction to Double-Knitting
Alasdair Post-Quinn
Thursday PM
Sunday PM (repeated)
Double-knitting is a unique method of making a fabric with no "wrong" side and a built-in reversible colorwork pattern. Significantly different from the standard intarsia and Fair Isle colorwork that are so well known, double-knitting is a labor-intensive but wholly worthwhile technique to have in your repertoire. In this workshop, you'll learn my 2-color cast-on for double-knitting, get comfortable with the techniques involved, then move into colorwork. At the end of the workshop, you should have a motif swatch and be confident that you can tackle a larger standard double-knitting pattern.
Skill Level: To take this class, you must be able to cast on and knit and purl comfortably in single-layer knitting. If you are familiar with the long-tail CO and some other form of two-color work, you will have a leg up but these are not strictly necessary.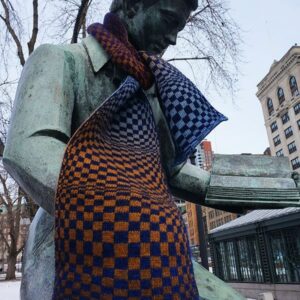 Student Supplies: 2 solid colors (one light, one darker) of plain yarn in the DK to worsted weight range and a pair of straight or circular needles in the size you would normally use for your chosen yarn.