Spinning Blended Breeds: Corriedale, Columbia, Coopworth
Kate Larson
Thursday All Day
New types of sheep that are developed by carefully crossing established breeds are often called composite breeds. The plentiful fleeces from composite breeds such as Columbia, Corriedale, Cormo, Coopworth, and Polypay merge fleece characteristics from their parent breeds into versatile fibers that are a spinner's delight. Join us as we explore the history of these sheep, discuss selecting and preparing their fleeces, work with indie-dyed fibers, and scheme about the beautiful textiles that would put these special fibers to best use.
Skills needed: Ability to spin and ply a basic yarn.
Skill Level:
Ability to spin a basic 2-ply yarn
Material fee:
$25: variety of washed fleece and fiber samples, handouts, recordkeeping materials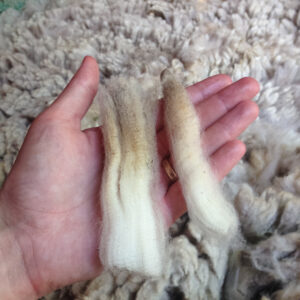 Student Supplies:
Several spindles or working wheel, extra bobbins, and lazy kate. You will need handcards for this class—some will be available to borrow.